藤井 絵梨   ERI FUJII 
GRANDE CUVEE~Champagne Concierge~代表。
心理士。ソムリエ。調理師。産業カウンセラー。キャリアコンサルタント。
「こころ」と「シャンパーニュ」が研究テーマ。
人間に興味があり、大学では臨床心理学を専攻。卒業後は心理士、心理カウンセラーとして病院に勤務。
食を通してクライエントが笑顔になったことを機に、飲食のさらなる可能性を感じ、専門的な勉強を始める。
当時から得意だった料理の資格を取得後、レストランにて調理師としての経験を積む。そして、大好きなワインを極めるべくソムリエの道へ。
銀座シャンパーニュバー"GRANDE CUVEE"マネージャー時、KRUGアンバサダーに就任。
フランスにも何度も訪れ、シャンパーニュの研鑽を積む。
シャンパーニュが生きていることを実感、証明するためにKRUG GRANDE CUVEEを2年にかけて毎日飲み続け、ボトル差研究を行う。飲んだボトルは2000本以上‼
2016年7月、Champagne Conciergeとして会社を設立。
シャンパーニュに特化したソムリエ、唯一無二のシャンパーニュコンシェルジュとして、愛するシャンパーニュを伝えるべく日々精進している。
実際に生産者に会うのは勿論、その土地に立って、畑のエネルギーを感じ、直に造り手達の"こころ"を伝える、というスタイルをモットーとしている。
同時に、心理カウンセラーとしては、
好きなものを味方につけ、人生を豊かにしていくことを伝えている。
自分で自分自身を癒し、幸せにする、そしてその方法をクライエントの皆様に伝え続けていく。
「人とワインはとてもよく似ています。たった一人の貴方だけの為に、心にぴったり寄り添うシャンパーニュを選び続けます。」
「自分で自分を癒す力はあなたにもあります。ご自身を深く知り、好きなものを味方につけて、あなたの人生を豊かに好転させるお手伝いをします。」
ERI FUJII(Champagne Concierge)
GRANDE CUVEE~Champagne Concierge~ CEO.
Sommelier,  Clinical psychologist,  Career consultant, Counselor.
Originary from Fukuoka in Japan.
I majored in clinical psychology at the university.
After graduation, I worked at the hospital as a clinical phychologist.

At that time, I was really into cooking and wine.
Also, I know almost of all pacients are getting smile when they are talking about foods and drinks.
I was interested in Food industry.
After getting cook licence and wine licence, I changed my job.  
Now, I'm sommelier and champagne concierge.
After working restaurant, I managed the champagne bar in Ginza Tokyo Japan.

When I maneged the champagne bar, I became 
KRUG Ambassador.
I have been visiting France many time, and have been gaining experience of Champagne.
In addition, I also continued drinking KRUG GRANDE CUVEE every day for 3 years to prove that champgne is alive and varies according to bottle.
I drank KRUG GRANDE CUVEE 
2000 bottles or more!!!!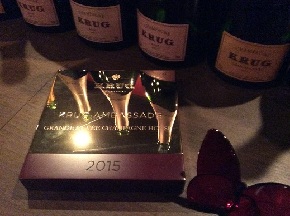 After spending a while in Europe, July 7 2016, I founded my company as Champagne Concierge.
Now, I'm sommelier and champagne concierge.
I can do anything about champagne.
I actually meet the producer, standing in that ,feel the energy of the field.
And then, I will tell you.
I think that wine and humans are very similar.
"Heart" and "Champagne" is my passion.
I will pass on Champagne that works for your heart by taking advantage of all the experience so far.
「I choose a champagne that fits perfectly only you. 」
Thank you for reading.
☆【1 minute a day, You will be a brilliant champagne world 🥂】
For resistration of free e-seminar↓↓↓↓
https://www.agentmail.jp/form/ht/7689/1/
Copyright © 2016-2019 GRANDE CUVEE All Right Reserved.